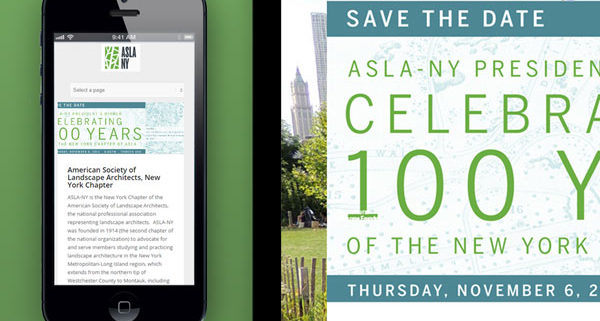 ASLANY is the New York Chapter of the American Society of Landscape Architects, the national professional association for landscape architects, representing 17,000 members in 48 professional chapters and 68 student chapters. Their mission is to lead, educate, and participate in the careful stewardship, wise planning, and artful design of our cultural and natural environments.
Being that ASLANY is an organization focused on the art & interaction of their members, it was important for their website to be designed with a level of transparency in mind, not only easily communicating their goals (and being easy for them to manage internally), but allowing their members' beautiful work to shine through.  Working with them to find the perfect medium between data & design, we agreed on a layout we felt achieved those goals, and gave them enough functional room to grow.
The website features an easily maintained event calendar, form-based event registration system, full fledged job board with member job submission and photo gallery.